PhoneProp - Free Shipping to USA Locations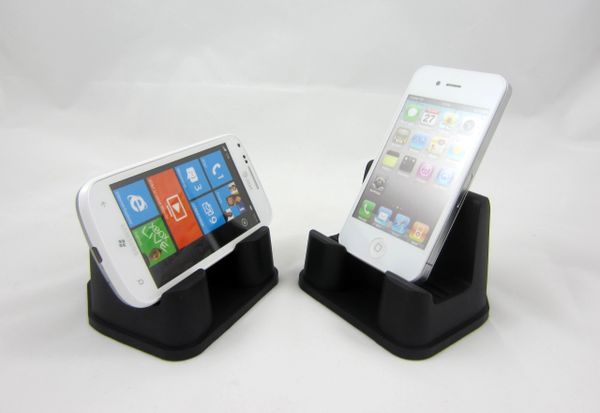 PhoneProp - Free Shipping to USA Locations
Features:

Universal Fit - works for all Apple iPhones, Samsung, Nokia, HTC phones


Made from durable FDA Grade Non-Slip Silicone that won't scratch your device

Can be used both with and without device cords and connectors on most phones

Designed to be used on desk tops and other flat surfaces (not a mount for using in cars)
PhoneProp is a simple, one-piece stand that works great for different kinds of smartphones and other small mobile devices. (Designed Just for Phones and Smaller Devices - Not Tablets or eReaders) It works great for Apple iPhone 6, 6 Plus, 5s, 5, 4s and prior models as well as most other like-sized electronic devices with view screens (HTC, Motorola, Samsung, Nokia, Droids, LG, iPods, etc). The universal design means it does not have to be replaced every time you get a new phone. 

This light, portable stand is easy to use and move around. Because it has no attached wires or integrated connectors, you can quickly slip your device in and out. The not-too-tight sizing provides enough room for silicone or plastic cases. PhoneProp is made of high-quality FDA grade Non-Slip Silicone - so it is easy to clean and hard to break. 
The stand has a hollow center so it will flex and then snap back into shape if squeezed. PhoneProp is ideal for Portrait viewing and includes space for phone cords and connectors. For Landscape viewing devices can be tilted from 45 to 90 degrees on the supporting front edge. This stand acts as a platform providing just the right lift and angles when using video chat. 
It's a great office desk stand that can be easily picked up and also used in the kitchen, bedroom, etc..